Individual Dogs/Pups Available to Approved Homes
Last Updated 12/15/04
---
We occasionally have available for sale older individual dogs which do not fit into our breeding program or who are retired from the show ring. All dogs sold as pets are already spayed or neutered. For serious inquiries, contact Sandy at (225) 629-5067, or MRUSSEL1@IX.NETCOM.COM
---

PLEASE CONSIDER US, TOO, WHEN LOOKING FOR A LOVING PET. WE MAY BE OLDER, BUT WE'RE EITHER HOUSE-BROKEN ALREADY, OR MUCH EASIER TO HOUSE-BREAK THAN A TINY PUPPY. WE LOVE PEOPLE, TRAVEL WELL IN THE CAR, WALK ON LEAD, STAY QUIETLY IN OUR CRATES, AND HAVE HAD ALL OF OUR SHOTS.

WE CRAVE INDIVIDUAL ATTENTION - PLEASE GIVE US A HOME OF OUR OWN!

Fox
Fox going over the A-frame for the first time

Duchwood's Red Fox MS

(DCh. Kinder's Magic Mirror MS x Ch. Duchwood's Red Alert MS)

Date of Birth: November 12, 2002

Pictured at 18 months of age.

"Fox" is a lovely, clear mahogany red boy with good bone, straight topline, and lovely front and rear angles. He's starting to fill out a little in his body and his chest is deepening, but he will probably not be mature until he is 3. He has tight feet and is a gorgeous mover like his dad. Ribbing and keel could be a little longer. His head is really elegant and he is going to be approx. 11 lb at maturity (he weighs 10 lbs. now). He is lead-trained, crate-trained, well-socialized, and travels well. He's not thrilled about big dogs and is too leggy for the show ring, so Fox has been neutered and is available as a pet for $250. He may not be tolerant of toddlers and should go to a home that has children 10 years or older. He is a very athletic and active dog who would probably do well in agility, but he's a sweet boy who would make a good snuggler, too.
"Archie" - 8 months old
Duchwood's Archstone MS
(Duchwood's Stepping Stone MS x Ch. Duchwood's Red Alert MS)
Date of Birth: December 5, 2003
"Archie" will be dark, mahogany red and will be under 11 lb at maturity; good topline, nice shoulder assembly with prominent forechest, lovely rear angles, handsome head, good bite, nice tight feet; lovely smooth mover with a level topline; potential show prospect available for $600 on a co-ownership. He is a piebald carrier. Or he can go as a pet for $350 on a neuter contract. He is friendly, crate-trained, leash-trained, and well socialized. He'd make a good obedience or agility prospect as he is food-motivated.

"Callum" - 8 months
(Duchwood's Rubystone MS x Ch. Duchwood's Pierce Arrow MS)
Date of Birth: December 19, 2003
"Callum" has turned out to be a gorgeous dog. He has a handsome head with a very laidback personality; he loves to snuggle under your neck. He has a good topline, good shoulder layback, good ribbing and keel length and wonderful rear angles; his feet tightened up a lot with age and are just fine now. He's a very nice mover with a level topline. He's leash- and crate-trained and travels well. I don't need him for my breeding program since he's a clone of Raven and Pierce. He carries the piebald gene recessively, and is available to a show home on co-ownership for $500.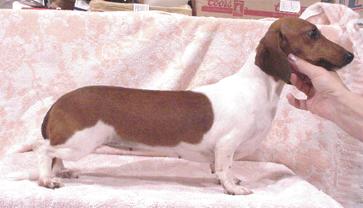 "Ruby" - ON HOLD - going to a pet home in Orlando.
Duchwood's Rubystone MS
(Ch. Duchwood's Phoenix MS x Ch. Duchwood's Cornerstone MS)
Ruby just turned 6 in August 2004. She's a 10-lb. red piebald who has been an excellent mom. She is now retired from the whelping box and will be spayed. She's available to a loving pet home for $150. She's been my "armadillo dog", always letting me know with her special bark when one of those pesky critters is digging up my garden. She's sweet and cuddly, crate- and leash-trained, and travels well. She's a good house and bed dog who needs a special home and person. Small children make her nervous but she should do well with children over age 12. She gets along well with other dachshunds.
"Jazz"
Dual Champion Duchwood's All That Jazz MS
(Duchwood's Outback Orion MS x Ch. Duchwood's Cornerstone MS)
Jazz just turned 7, weighs around 10 lb., and is very active and healthy. She is now retired from our breeding program, and while I'd love to make her a housedog like many of my other older ones, she hates Princess for some reason and wants to kill her. Since Princess was my housedog first, Jazz needs to find a loving retirement home. She will be spayed before she leaves here. She travels well, is very well socialized and friendly, and is crate- and lead-trained. She's also a marvelous bed dog and likes to sleep all curled up against your neck. She is a ball freak and will fetch forever. She is also a serious hunter and needs a very secure yard where she can never get away, since she will take off after a squirrel or bunny and probably not come back. She gets along well with all of my other dogs except Princess; however, a neutered male companion would probably be best for her since she does not interact or play with other females at all. She is available to an approved pet home for $150.
---
Present/Upcoming Litters and Puppies
Photos of our dogs in their New Homes
Crate Training Tips
Copyright © 2004 Sandra J. Russell. All rights reserved.